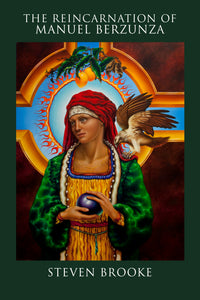 64-page e-book
Reviews:
"I absolutely loved this story. Set in 1960s Miami and Mexico, this comical tale about the transcendent power of art had me laughing out loud and awestruck at the same time. What a great find."

"A pleasure to read. Rich with intention, the pace kept me breathless, and the surprise ending left me wanting more. In this little gem, author Steven Brooke shows another dimension of his enormous talent."
"The Reincarnation of Manuel Berzunza is a masterfully written piece of short fiction about the magic of fine art. By turns witty, dramatic, hilarious, tragic and ultimately uplifting and elegiac, the reader will wonder just how Brooke pulled off this astonishing literary feat."